What is a Credit Control Area?
The credit control area manages and sets the credit limit for customers to protect the company from the risk of bad debts and multiple outstanding receivables.
In other words, the credit control area is like a credit department of an organization that manages its customers' credit requirements. A credit control area is assigned to an individual company code or to a group of company codes.
The credit control area is a four-character alphanumeric key.
For example, for ABC Enterprises we have four company codes Mumbai, Bangalore, New Delhi, Chennai. Now the ABC Enterprises uses four credit control areas.
Mumbai and Bangalore each have a separate credit department( credit control areas 50,000 and 70,000 ). New Delhi and Chennai have a centralized credit control area of 60,000. We can also have a centralized credit control area for all company codes in Mumbai, Bangalore, New Delhi, Chennai(credit control area 2,00,000).
The credit control area is determined in the following sequence:
User exit
Distribution channel
Customer master
Company code for the sales organization
How to define a Credit Control Area?
A Credit Control area is defined on the basis of responsibility for credit monitoring.
Here are the steps to define credit control:
Step 1. Run T-Code "OB45" in the SAP command field and press enter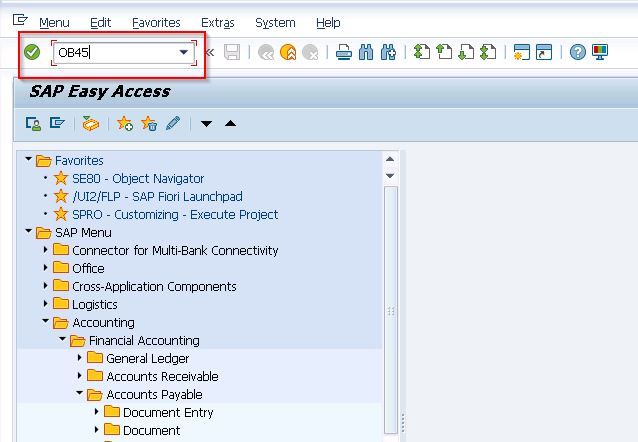 Or
Navigate To: Execute T-code SPRO -> SAP Reference IMG -> Enterprise Structure -> Definition -> Financial Accounting -> Define Credit Control Area
as shown in the below figure.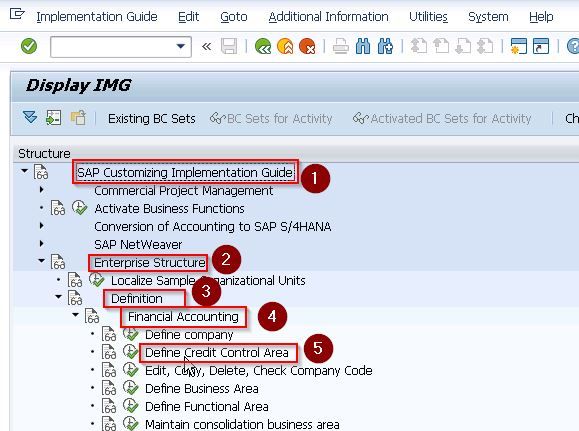 Step 2. Configure Credit Control Areas
On the Change View "Credit Control Areas" Overview screen, click on "New Entries" button or press F5 to configure the new credit control area as required by the company.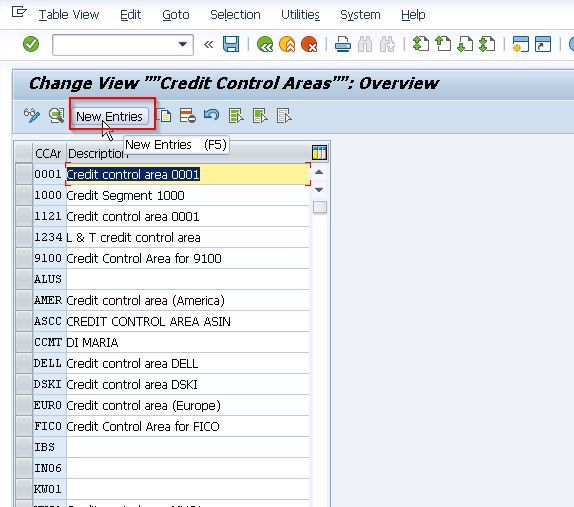 On the next screen, give the following details.
Cred.control.area: Four digits alphanumeric key that identifies credit control area in SAP.
Description: Add descriptive text to define credit control this file is not mandatory.
Currency: Give the currency tye example: INR
Fiscal year variant: Update the fiscal year variant key.
Risk Category: Give risk category of different nature and assign them to credit control area.
Credit Limit: Give credit limits for customers.
Organizational data: If you want to give this credit control to all company codes then select if required check box or else leave it blank.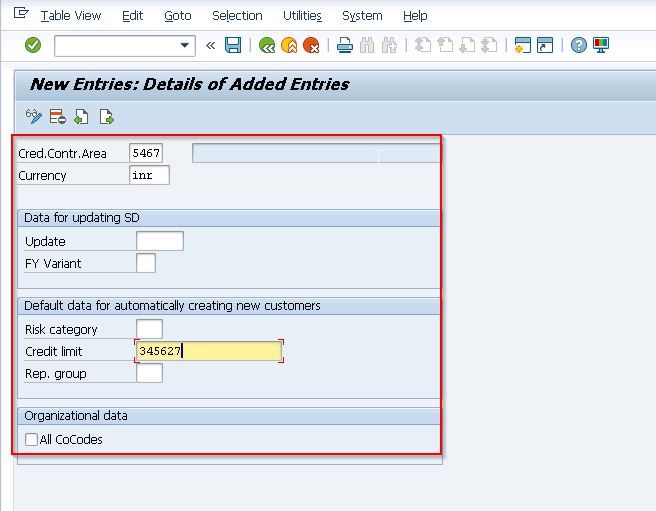 After filling in the required details click on the Save button or press Ctrl + S to save the configuration details.

Now go back to the main credit control area screen (Change view "Credit Control Areas" Overview), click on the position button and give the credit control key. So your credit control area key display at the top of the window screen.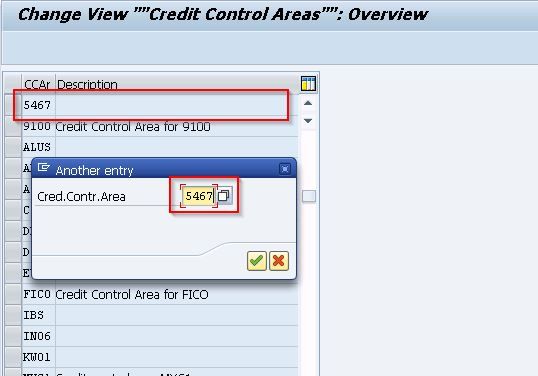 If you have not given a description of credit control while defining the credit control you can update it in the current screen as shown in the image
Now you have successfully defined the credit control area in SAP