Dear Friends,

Could any one tell me the procedure for Advances to Employee against Purchase of material.
Advanced taken 5000 INR
After 2 days, employee returned 2000 INR: Net effect 3000 INR is Expneses for Material In this case 3000 INR should be treated as expensed.
What are the T.codes to be used and what are the entries will effect. Finally we have to nullify the advance amount which was taken by employee.

As per you requirement i did the process in SAP and for that i had created the user manual also.
Go thru the manual which i created and attached here with.
I hope this will help you.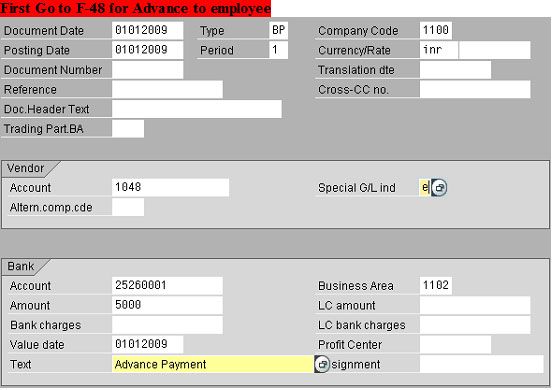 Go to F-52 for receiving part of the amount i.e: Rs.2000 (Sp. GL ind: E)